This article shows how to read/write data to NFC/RFID tag using PHPoC.
Demonstration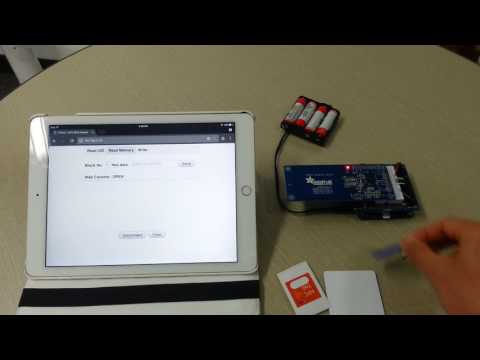 NFC/RFID Tag at a glance
Before going into the design and source code. I briefly describe about memory of NFC/RFID tag.
Memory of NFC/RFID tag usually includes at least two memory types:
A memory portion to store the unique tag ID number by the manufacturer when the IC is manufactured. Typically, this memory portion cannot be changed.
User memory to store user data. This memory can be readable/writable, write-only, read-only, or write-once... It may contain information to restrict access such as secret key or access conditions. The secret key may be write-only and changeable. It is required to access memory. The access condition bits specify read/write possibility for a part of or whole memory. You can use these bits to lock memory.
Things Used In This Project
PHPoC Blue or Black
PN532 NFC/RFID controller (in my case, I used Adafruit PN532 RFID/NFC Breakout)
Some NFC/RFID tag (Mifare Classic tag)
PHPoC bread board (Optional)
Wiring Diagram between PHPoC and Adafruit PN532
PHPoC------------- Adafruit PN532
3V----------------3.3V (Red wire)
SCK ----------------SCK (Yellow wire)
MISO---------------MISO (Green wire)
MOSI---------------MOSI (Blue wire)
4 ------------------SSEL (White wire)
GND---------------GND (Gray wire)
Source Code
The image bellow shows the source code architecture. For other tag types and another NFC/RFID controllers, I hope that someone who is interested in this project can implement it and share it in this forum.
My code is reusable, including:
PN532 library
Mifare Classic Tag library
Examples:

read UID
read data
write data
change secret key.
Combine three first examples (as shown on demonstration video)
You can get the full source codes:
PHPoC_NFC_RFID_Source_Code.zip
If you have any questions or something to discuss, leave a comment below.