Hardware components
×
1
×
1
×
2
×
2
Overview
Modbus/TCP is widely used in industrial. Your can learn more about
Modbus Protocol
We can make Modbus/TCP device using Arduino.
In my project, I make a devices that support:
8 digital output port with Relay (NO/NC)
8 digital input port with Photocoupler (Wet/Dry contact)
WiFi and Ethernet
The number of input and output port
can be extended more
because we can stack more Relay board and Input board on Arduino.
This device is equivalent to the commercial device, namely
CIE-H10
Demonstration
In demonstration, I used a Modbus/TCP app on Ardroid, called
Modmap
.
We can use any kind of Modbus/TCP app or software on any platform to communicate with this devices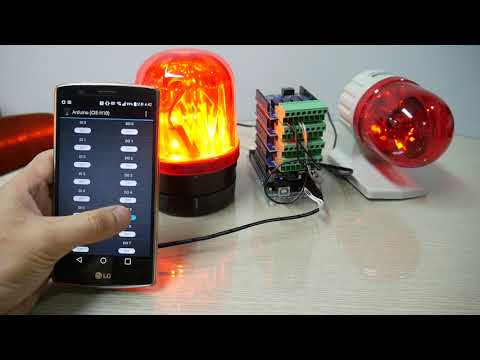 Modmap User Interface
Schematics
hardware_N7VCY6OzFa.jpg
Code
Code:
#include <Phpoc.h>
#include <PhpocExpansion.h>
#include <ArduinoModbus.h>

PhpocServer tcpServer(502);
ModbusTCPServer modbusTCPServer;
ExpansionPhotoInput inputs[8] = {
    ExpansionPhotoInput(1/*expansionId*/, 0),
    ExpansionPhotoInput(1/*expansionId*/, 1),
    ExpansionPhotoInput(1/*expansionId*/, 2),
    ExpansionPhotoInput(1/*expansionId*/, 3),
    ExpansionPhotoInput(2/*expansionId*/, 0),
    ExpansionPhotoInput(2/*expansionId*/, 1),
    ExpansionPhotoInput(2/*expansionId*/, 2),
    ExpansionPhotoInput(2/*expansionId*/, 3)
};
ExpansionRelayOutput outputs[8] = {
    ExpansionRelayOutput(3/*expansionId*/, 0),
    ExpansionRelayOutput(3/*expansionId*/, 1),
    ExpansionRelayOutput(3/*expansionId*/, 2),
    ExpansionRelayOutput(3/*expansionId*/, 3),
    ExpansionRelayOutput(4/*expansionId*/, 0),
    ExpansionRelayOutput(4/*expansionId*/, 1),
    ExpansionRelayOutput(4/*expansionId*/, 2),
    ExpansionRelayOutput(4/*expansionId*/, 3)
};

void setup() {
    Serial.begin(9600);
    while (!Serial)
        ;

    Serial.println("Modbus TCP Server LED");

    // initialize PHPoC [WiFi] Shield:
    Phpoc.begin(PF_LOG_SPI | PF_LOG_NET);
    Expansion.begin();

    // start the server
    tcpServer.begin();

    // start the Modbus TCP server
    if (!modbusTCPServer.begin()) {
        Serial.println("Failed to start Modbus TCP Server!");
        while (1);
    }

    // configure 8 coil start at address 0x08 for 8 output port
    modbusTCPServer.configureCoils(0x08, 8);
    // configure input and output holding registers
    modbusTCPServer.configureHoldingRegisters(0x00, 9);
}

void loop() {
    // listen for incoming clients
    PhpocClient client = tcpServer.available();

    if (client) {
        // a new client connected
        Serial.println("new client");

        // let the Modbus TCP accept the connection
        modbusTCPServer.accept(client);

        while (client.connected()) {
            // poll for Modbus TCP requests, while client connected
            modbusTCPServer.poll();

            /*---------DIGITAL OUTPUT PORT------------*/
            // 1. Read the control value from remote master and control 8 output ports
            for(int address = 0x08; address < 0x10; address++)
            {
                int outputCoinValue = modbusTCPServer.coilRead(address);

                if (outputCoinValue)
                    outputs[address - 0x08].on(); // Turn ON relay
                else
                    outputs[address - 0x08].off(); // Turn OFF relay
            }

            // 2. Read the read value of output ports and update current state
            uint16_t outputRegisterValue = 0;
            for(int address = 0x08; address < 0x10; address++)
            {
                uint16_t state = (int)outputs[address - 0x08].isOn();
                outputRegisterValue |= state << (address - 0x08);
            }

            modbusTCPServer.holdingRegisterWrite(0x08, outputRegisterValue);

            /*---------DIGITAL INPUT PORT------------*/
            // 1. Read the read value of input ports and update current state
            uint16_t inputRegisterValue = 0;
            for(int address = 0x00; address < 0x08; address++)
            {
                uint16_t state = (int)inputs[address].isOn();
                inputRegisterValue |= state << (address);
            }

            modbusTCPServer.holdingRegisterWrite(0x00, inputRegisterValue);
        }

        Serial.println("client disconnected");
    }
}