Arduino can login to your Google and Facebook account to do something on your behalf. Login is perform via a web-page stored in Arduino
Hardware components
×
1
×
1
Purposes of Arduino to Google and Facebook
get access token to use Google and Facebook API (e.g Livestream, Facbook Post...)
Arduino can also send access token Cloud. Cloud receives access token to identify owner of Arduino.
Demonstration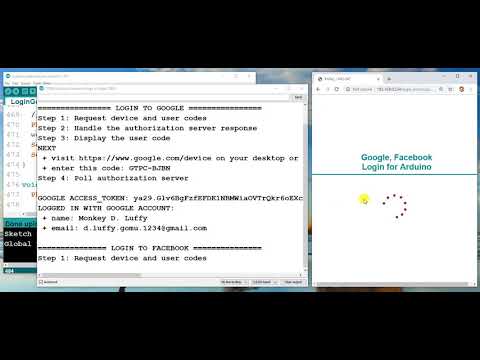 OAuth 2.0 for Devices
The OAuth 2.0 authorization framework enables a third-party application to obtain limited access to an HTTP service, either on behalf of a user. It is specified in
RFC-6749.
Recently, IETF has added an
OAuth 2.0 extension
draft, which allows IoT devices to login to the service provider. Google and Facebook has supported this extension.
Google Document:
OAuth 2.0 for TV and Limited-Input Device Applications
Facebook Document:
Facebook Login for Devices
How To
Note that, we need to distinguish between your project account and user account.One project that you creates on developer account can allows a large number users to login.
Step 1:
Create a project on developer console and get credentials
Step 2:
Implement code for Arduino
Code:
#include <Phpoc.h>

// Replace your GOOGLE_CLIENT_ID and GOOGLE_CLIENT_SECRET here
String GOOGLE_CLIENT_ID      = "xxxxxxxxxxxxxxxxxxxxxxxxxxxxxxxxxxxxxxxxxxxxx.apps  .googleusercontent.com";
String GOOGLE_CLIENT_SECRET  = "xxxxxxxxxxxxxxxxxxxxxxxx";
String FACEBOOK_APP_ID ="xxxxxxxxxxxxxxxx";
String FACEBOOK_CLIENT_TOKEN = "xxxxxxxxxxxxxxxxxxxxxxxxxxxxxxxx";

String gg_access_token                  = "";
String gg_refresh_token                 = "";
unsigned long gg_access_token_expire_at = 0;

String fb_access_token                  = "";
unsigned long fb_access_token_expire_at = 0;

PhpocServer websocket_server(80);

String base64_decode(const String &encoded_string)
{
    String decoded_string = "";
    static const String base64_chars = "ABCDEFGHIJKLMNOPQRSTUVWXYZabcdefghijklmnopqrstuvwx  yz0123456789+/";
    int i = 0;
    int j = 0;
    unsigned char char_array_3[3];
    unsigned char char_array_4[4];

    for(int pointer = 0; pointer < encoded_string.length(); pointer++) {
        char cur_char = encoded_string.charAt(pointer);
        if(cur_char == '=')
            break;

        int index = base64_chars.indexOf(cur_char);
        char_array_4[i++] = index;
        if (i == 4) {
            char_array_3[0] = ((char_array_4[0] << 2) & 0xFC) | ((char_array_4[1] >> 4) & 0x03);
            char_array_3[1] = ((char_array_4[1] << 4) & 0xF0) | ((char_array_4[2] >> 2) & 0x0F);
            char_array_3[2] = ((char_array_4[2] << 6) & 0xC0) | ((char_array_4[3] >> 0) & 0x3F);

            for (j = 0; (j < 3); j++)
                decoded_string += (char)char_array_3[j];

            i = 0;
        }
    }

    if(i == 2)
    {
        char last_char = (char)((char_array_4[0] << 2) & 0xFC) | ((char_array_4[1] >> 4) & 0x03);
        decoded_string += (char)last_char;
    }
    else
    if(i == 3)
    {
        char last_char_1 = ((char_array_4[0] << 2) & 0xFC) | ((char_array_4[1] >> 4) & 0x03);
        char last_char_2 = ((char_array_4[1] << 4) & 0xF0) | ((char_array_4[2] >> 2) & 0x0F);
        decoded_string += (char)last_char_1;
        decoded_string += (char)last_char_2;
    }
    else
    if(i == 1)
        Serial.println("base64_decode: invalid base64_endcode data");

    return decoded_string;
}

String JSONvalue(const String &json_str, const String &key)
{
    String search_phrase = String('"');
    search_phrase.concat(key);
    search_phrase.concat('"');

    int key_pos = json_str.indexOf(search_phrase);

    if(key_pos != -1) {
        int start_pos = json_str.indexOf(":", key_pos);
        if(start_pos != -1) {
            int end_pos = json_str.indexOf(",", start_pos);

            if(end_pos == -1) {
                end_pos = json_str.indexOf("}", start_pos);
            }

            if(end_pos != -1) {
                String value;

                value = json_str.substring(start_pos + 1, end_pos);
                value.trim();
                if((char)value.charAt(0) == '"')
                    value.remove(0, 1);

                if((char)value.charAt(value.length() - 1) == '"')
                    value.remove(value.length() - 1, 1);

                return value;
            }
            else
            {
                //Serial.print(F("JSONvalue: key \""));
                //Serial.print(key);
                //Serial.println(F("\" invalid JSON format"));
            }
        }
        else
        {
            //Serial.print(F("JSONvalue: key \""));
            //Serial.print(key);
            //Serial.println(F("\" invalid JSON format"));
        }
    }
    else
    {
        //Serial.print(F("JSONvalue: key \""));
        //Serial.print(key);
        //Serial.println(F("\" NOT found"));
    }

    return String("");
}

String http_resp_header(PhpocClient &client){
    String header = "";
    while(1){
        if(client.available()){
            String line = client.readLine();

            if(line == "\r\n")
                break;
            else
                header += line;
        }

        if(!client.connected()){
            client.stop();
            break;
        }
    }

    return header;
}

String http_resp_body(PhpocClient &client){
    String body = "";
    while(1){
        if(client.available()){
             char c = client.read();
             body += c;
        }

        if(!client.connected()){
            client.stop();
            break;
        }
    }

    return body;
}

String https(const String &method, const String &url, String &body)
{
    PhpocClient client;
    String http_host;
    String http_path;
    char host[100];

    int pos = url.indexOf('/');

    if(pos == -1)
    {
        Serial.print(F("https: Invalid URL"));
        return "";
    }

    http_host = url.substring(0, pos);
    http_path = url.substring(pos);
    http_host.toCharArray(host, http_host.length() + 1);

    if(client.connectSSL(host, 443)){
        //Serial.print(F("https: Connected to "));
        //Serial.println(url);

        client.println(method + " " + http_path + " HTTP/1.1");
        client.println("Host: " + http_host);
        client.println(F("Connection: close"));
        client.println(F("Accept: */*"));
        client.println(F("Content-Type: application/x-www-form-urlencoded"));
        client.print(F("Content-Length: ")); client.println(body.length());
        client.println();

        client.print(body);

        http_resp_header(client);
        //String response_header = http_resp_header(client);
        String response_body = http_resp_body(client);
        //Serial.println(response_header);
        //Serial.println(response_body);

        return response_body;
    }
    else
    {
        Serial.print(F("https: CANNOT Connected to "));
        Serial.println(url);
        return "";
    }
}

void websocket_send(const String &msg)
{
    websocket_server.write(msg.c_str(), msg.length());
}

void googleDeviceOAuthLogin(){
    String device_code      = "";
    String user_code        = "";
    String verification_url = "";
    long expires_in          = 0;
    int interval            = 0;
    bool is_valid = true;

    Serial.println();
    Serial.println(F("================ LOGIN TO GOOGLE ================"));

    // Step 1: Request device and user codes
    Serial.println(F("Step 1: Request device and user codes"));

    { // put code in braces to save memory by using local variables
        String request_body = F("client_id=");
        request_body += GOOGLE_CLIENT_ID;
        request_body += F("&scope=profile email");

        String response_body = https("POST", "accounts.google.com/o/oauth2/device/code", request_body);
        //Serial.println(response_body);

        // Step 2: Handle the authorization server response
        Serial.println(F("Step 2: Handle the authorization server response"));

        device_code      = JSONvalue(response_body, "device_code");
        user_code        = JSONvalue(response_body, "user_code");
        expires_in       = JSONvalue(response_body, "expires_in").toInt();
        interval         = JSONvalue(response_body, "interval").toInt();
        verification_url = JSONvalue(response_body, "verification_url");
    }

    if(!device_code.equals(""))
    {
        // Step 3: Display the user code
        Serial.println(F("Step 3: Display the user code"));
        Serial.println(F("NEXT"));
        Serial.print(F(" + visit "));
        Serial.print(verification_url);
        Serial.println(F(" on your desktop or smartphone"));
        Serial.print(F(" + enter this code: "));
        Serial.println(user_code);

        { // put code in braces to save memory by using local variables
            String msg;

            msg  = "{\"provider\": \"google\",";
            msg += "\"action\": \"LOGIN\",";
            msg += "\"verification_url\": \"" + verification_url + "\",";
            msg += "\"user_code\": \"" + user_code + "\"}";
            websocket_send(msg);
        }

        // Step 4: Poll authorization server
        Serial.println(F("Step 4: Poll authorization server"));
        int poll_max = expires_in / interval;
        long token_expires_in = 0;
        String gg_id_token;

        for(int poll_count = 0; poll_count < poll_max; poll_count++){
            String request_body = F("client_id=");
            request_body += GOOGLE_CLIENT_ID;
            request_body += F("&client_secret=");
            request_body += GOOGLE_CLIENT_SECRET;
            request_body += F("&code=");
            request_body += device_code;
            request_body += F("&grant_type=http://oauth.net/grant_type/device/1.0");

            String response_body = https("POST", "www.googleapis.com/oauth2/v4/token", request_body);

            gg_access_token  = JSONvalue(response_body, "access_token");
            gg_refresh_token = JSONvalue(response_body, "refresh_token");
            gg_id_token      = JSONvalue(response_body, "id_token");
            token_expires_in = JSONvalue(response_body, "expires_in").toInt();

            if(!gg_access_token.equals("")) // process outside to save memory: local variables (response_body and request_body) are free. These variables are very big in size.
                break;

            delay(interval * 1000);
        }

        if(!gg_access_token.equals(""))
        {
            gg_access_token_expire_at = millis() + token_expires_in * 1000;

            Serial.println();
            Serial.print(F("GOOGLE ACCESS_TOKEN: "));
            Serial.println(gg_access_token);
            //Serial.print(F("GOOGLE ID_TOKEN: "));
            //Serial.println(gg_id_token);

            // Step 5: get User Profile
            /*
            NOTE: for Google, We don't need to make new request to get User Profile from server
            because the User Profile has been included in id_token in JWT format
            */
            int dot_pos_1 = gg_id_token.indexOf('.');
            int dot_pos_2 = gg_id_token.lastIndexOf('.');
            String decoded_string;

            { // put code in braces to save memory by using local variables
                String jwt_body = gg_id_token.substring(dot_pos_1 + 1, dot_pos_2);
                decoded_string =  base64_decode(jwt_body);
            }

            String oauth_uid = JSONvalue(decoded_string, "sub");
            String name      = JSONvalue(decoded_string, "name");
            String email     = JSONvalue(decoded_string, "email");

            if(!oauth_uid.equals(""))
            {
                // send success message to web
                String msg  = "{\"provider\": \"google\",";
                msg += "\"action\": \"SUCCESS\",";
                msg += "\"name\": \"" + name + "\",";
                msg += "\"email\": \"" + email + "\"}";
                websocket_send(msg);

                Serial.println(F("LOGGED IN WITH GOOGLE ACCOUNT: "));
                Serial.print(F(" + name: "));
                Serial.println(name);
                Serial.print(F(" + email: "));
                Serial.println(email);
            }
        }
    }
    //else
        //Serial.println(F("Invalid resonse from Google"));
}

void facebookDeviceOAuthLogin(){
    String device_code      = "";
    String user_code        = "";
    String verification_url = "";
    long expires_in         = 0;
    int interval            = 0;

    Serial.println();
    Serial.println(F("=============== LOGIN TO FACEBOOK ==============="));

    // Step 1: Request device and user codes
    Serial.println(F("Step 1: Request device and user codes"));

    { // put code in braces to save memory by using local variables
        String request_body = "access_token=" + FACEBOOK_APP_ID + "|" + FACEBOOK_CLIENT_TOKEN;
        request_body += "&scope=email";

        String response_body = https("POST", "graph.facebook.com/v2.6/device/login", request_body);
        //Serial.println(response_body);

        // Step 2: Handle the authorization server response
        Serial.println(F("Step 2: Handle the authorization server response"));

        device_code      = JSONvalue(response_body, "code");
        user_code        = JSONvalue(response_body, "user_code");
        expires_in       = JSONvalue(response_body, "expires_in").toInt();
        interval         = JSONvalue(response_body, "interval").toInt();
        verification_url = JSONvalue(response_body, "verification_uri");
    }

    if(!device_code.equals(""))
    {
        // Step 3: Display the user code
        Serial.println(F("Step 3: Display the user code"));
        Serial.println(F("NEXT"));
        Serial.print(F(" + visit "));
        Serial.print(verification_url);
        Serial.println(F(" on your desktop or smartphone"));
        Serial.print(F(" + enter this code: "));
        Serial.println(user_code);


        { // put code in braces to save memory by using local variables
            String msg  = "{\"provider\": \"facebook\",";
            msg += "\"action\": \"LOGIN\",";
            msg += "\"verification_url\": \"" + verification_url + "\",";
            msg += "\"user_code\": \"" + user_code + "\"}";
            websocket_send(msg);
        }

        // Step 4: Poll authorization server
        Serial.println(F("Step 4: Poll authorization server"));
        int poll_max = expires_in / interval;
        long token_expires_in = 0;

        for(int poll_count = 0; poll_count < poll_max; poll_count++){
            String request_body = "access_token=" + FACEBOOK_APP_ID + "|" + FACEBOOK_CLIENT_TOKEN;
            request_body += "&code=" + device_code;

            String response_body = https("POST", "graph.facebook.com/v2.6/device/login_status", request_body);
            //Serial.println(response_body);

            fb_access_token  = JSONvalue(response_body, "access_token");
            token_expires_in = JSONvalue(response_body, "expires_in").toInt();

            if(!fb_access_token.equals("")) // process outside to save memory: local variables (response_body and request_body) are free. These variables are very big in size.
                break;

            delay(interval * 1000);
        }

        if(!fb_access_token.equals(""))
        {
            fb_access_token_expire_at = millis() + token_expires_in * 1000;
            Serial.println();
            Serial.print(F("FACEBOOK ACCESS_TOKEN: "));
            Serial.println(fb_access_token);

            String oauth_uid;
            String name;
            String email;

            // Step 5: get User Profile
            //Serial.println(F("Step 5: get User Profile"));

            { // put code in braces to save memory by using local variables
                String url = "";
                url += F("graph.facebook.com/v3.2/me");
                url += F("?fields=id,name,email,picture");
                url += F("&access_token=");
                url += fb_access_token;

                String request_body = "";
                String response_body = https("GET", url, request_body);
                //Serial.println(response_body);

                oauth_uid = JSONvalue(response_body, "id");
                name      = JSONvalue(response_body, "name");
                email     = JSONvalue(response_body, "email");
            }

            if(!oauth_uid.equals(""))
            {
                // send success message to web
                String msg  = "{\"provider\": \"facebook\",";
                msg += "\"action\": \"SUCCESS\",";
                msg += "\"name\": \"" + name + "\",";
                msg += "\"email\": \"" + email + "\"}";
                websocket_send(msg);

                Serial.println(F("LOGGED IN WITH FACEBOOK ACCOUNT: "));
                Serial.print(F(" + name: "));
                Serial.println(name);
                Serial.print(F(" + email: "));
                Serial.println(email);
            }
        }
    }
    //else
        //Serial.println(F("Invalid resonse from Facebook"));
}

void setup(){
    Serial.begin(115200);
    while(!Serial)
        ;

    //Phpoc.begin(PF_LOG_SPI | PF_LOG_NET);
    Phpoc.begin();
    websocket_server.beginWebSocket("login");
    Serial.print(F("WebSocket server address : "));
    Serial.println(Phpoc.localIP());
}

void loop(){
    PhpocClient client = websocket_server.available();

    if (client) {
        String ws_str = client.readLine();

        if(ws_str == "google\r\n")
            googleDeviceOAuthLogin();
        else
        if(ws_str == "facebook\r\n")
            facebookDeviceOAuthLogin();
    }
}