Monitor your home remotely via web using Arduino Uno and pan-tilt Grove camera.


Demonstration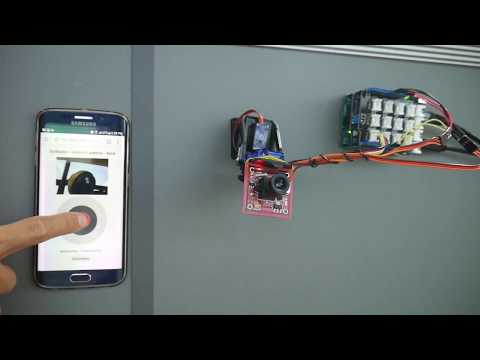 How it works
The following step shows data flow between Web Browser and Arduino:
User access webpage on PHPoC Shield for Arduino via Web Browser.
WebSocket connection is created between Arduino and Web Browser.
Arduino reads data (image) from grove serial camera
Arduino send the data (image) to Web Browser via websocket
Web browser display data (image) on webpage.
Since image is updated continuously. It looks like a live video.
Things we used in this project
Arduino UNO & Genuino UNO × 1
PHPoC WiFi Shield 2 for Arduino × 1
SG90 Micro-servo motor × 2
Assembly
stack PHPoC Shield on Arduino
stack grove expansion board on PHPoC Shield
connect grove camera to UART port of Grove expansion board
Source Code
There are two code parts: Arduino Code and Web User Interface code.
Arduino Code
Code:
#include <Phpoc.h>
#include <Servo.h>

#define PIC_PKT_LEN    256 //data length of each read, dont set this too big because ram is limited
#define CAM_ADDR       0

const byte cameraAddr = (CAM_ADDR << 5); // address
unsigned char pkt[PIC_PKT_LEN];
unsigned int pktCnt;
unsigned int lastPacketLength;

PhpocServer server(80);
PhpocClient client;

Servo servo_x;
Servo servo_y;

int current_angle_x;
int current_angle_y;

void setup(){
    Serial.begin(115200);

    Phpoc.begin(PF_LOG_SPI | PF_LOG_NET);
    server.beginWebSocketBinary("grove_camera", "uint8.phpoc");

    servo_x.attach(8);  // attaches the servo on pin 8 to the servo object
    servo_y.attach(9);  // attaches the servo on pin 9 to the servo object

    servo_x.write(90);
    servo_y.write(90);

    cameraInit();

    client = server.available();
}

void loop(){
    if(client && client.connected()){
        cameraGetPicture();
        for(unsigned int i = 0; i <= pktCnt; i++){
            getPacket(i);
            joystickLoop();
        }
    } else {
        client = server.available();
    }
}

void joystickLoop(){
    String data = "";

    while(1) {
        String data = client.readLine();

        if(data.length()){
            int pos = data.indexOf(':');
            long x = data.substring(0, pos).toInt();
            long y = data.substring(pos+1).toInt();

            // scale  from [-100; 100] to [0; 180]
            long angle_x = map(x, -100, 100, 0, 180);
            long angle_y = map(y, -100, 100, 0, 180);

            servo_x.write(angle_x);
            servo_y.write(angle_y);
        }
        else
            break;
    }
}

void clearRxBuf(){
    while (Serial.available()){
        Serial.read();
    }
}

void sendCmd(char cmd[], int cmd_len){
    for (char i = 0; i < cmd_len; i++) Serial.print(cmd[i]);
}

void cameraInit(){
    char cmd[] = {0xaa,0x0d|cameraAddr,0x00,0x00,0x00,0x00} ;
    unsigned char resp[6];

    Serial.setTimeout(500);
    while (1){
        sendCmd(cmd,6);

        if(Serial.readBytes((char *)resp, 6) != 6)
            continue;

        if(resp[0] == 0xaa && resp[1] == (0x0e | cameraAddr) && resp[2] == 0x0d && resp[4] == 0 && resp[5] == 0) {
            if(Serial.readBytes((char *)resp, 6) != 6) continue;
            if(resp[0] == 0xaa && resp[1] == (0x0d | cameraAddr) && resp[2] == 0 && resp[3] == 0 && resp[4] == 0 && resp[5] == 0) break;
        }
    }

    cmd[1] = 0x0e | cameraAddr;
    cmd[2] = 0x0d;
    sendCmd(cmd, 6);

    char cmd2[] = { 0xaa, 0x01 | cameraAddr, 0x00, 0x07, 0x03, 0x05};

    Serial.setTimeout(100);

    while (1){
        clearRxBuf();
        sendCmd(cmd2, 6);
        if(Serial.readBytes((char *)resp, 6) != 6) continue;
        if(resp[0] == 0xaa && resp[1] == (0x0e | cameraAddr) && resp[2] == 0x01 && resp[4] == 0 && resp[5] == 0) break;
    }

    char cmd3[] = { 0xaa, 0x06 | cameraAddr, 0x08, PIC_PKT_LEN & 0xff, (PIC_PKT_LEN>>8) & 0xff ,0};

    while (1) {
        clearRxBuf();
        sendCmd(cmd3, 6);
        if(Serial.readBytes((char *)resp, 6) != 6) continue;
        if(resp[0] == 0xaa && resp[1] == (0x0e | cameraAddr) && resp[2] == 0x06 && resp[4] == 0 && resp[5] == 0) break;
    }

    //Serial.println("Camera initialization done.");
}

void cameraGetPicture(){
    char cmd[] = { 0xaa, 0x04 | cameraAddr, 0x01, 0x00, 0x00, 0x00 };
    unsigned char resp[6];
    unsigned long picTotalLen = 0; // picture length

    while (1){
        clearRxBuf();
        sendCmd(cmd, 6);

        if(Serial.readBytes((char *)resp, 6) != 6) continue;
        if(resp[0] == 0xaa && resp[1] == (0x0e | cameraAddr) && resp[2] == 0x04 && resp[4] == 0 && resp[5] == 0){
            Serial.setTimeout(1000);
            if(Serial.readBytes((char *)resp, 6) != 6)
                continue;

            if(resp[0] == 0xaa && resp[1] == (0x0a | cameraAddr) && resp[2] == 0x01){
                picTotalLen = (resp[3]) | (resp[4] << 8) | (resp[5] << 16);
                break;
            }
        }
    }

    pktCnt = (picTotalLen) / (PIC_PKT_LEN - 6);
    lastPacketLength = PIC_PKT_LEN;

    if((picTotalLen % (PIC_PKT_LEN-6)) != 0){
        pktCnt += 1;
        lastPacketLength = picTotalLen % (PIC_PKT_LEN - 6) + 6;
    }
}
void getPacket(unsigned int i){
    char cmd[] = { 0xaa, 0x0e | cameraAddr, 0x00, 0x00, 0x00, 0x00 };

    Serial.setTimeout(100);

    if(i < pktCnt) {
        cmd[4] = i & 0xff;
        cmd[5] = (i >> 8) & 0xff;

        clearRxBuf();
        sendCmd(cmd, 6);

        int pkt_len;

        if(i < (pktCnt - 1))
            pkt_len = PIC_PKT_LEN ;
        else
            pkt_len = lastPacketLength;

        uint16_t cnt = Serial.readBytes((char *)pkt, pkt_len);

        while(client.availableForWrite() < (cnt - 6)) // check availability of websocket tx buffer.
            ;

        client.write((const uint8_t *)&pkt[4], cnt - 6);
    } else {
        cmd[4] = 0xf0;
        cmd[5] = 0xf0;
        sendCmd(cmd, 6);
    }
}
Compile and upload code to Arduino via Arduino IDE
Web User Interface
PHP Code:
<!DOCTYPE html>
<html>
<head>
<title>Arduino - PHPoC Shield</title>
<meta name="viewport" content="width=device-width, initial-scale=0.7, maximum-scale=0.7">
<style>
body { text-align: center; font-size: 15pt; }
h1 { font-weight: bold; font-size: 20pt; }
h2 { font-weight: bold; font-size: 15pt; }
button { font-weight: bold; font-size: 15pt; }
</style>
<script>
/* Camera variable */
var image = new Uint8Array(0);

/* Joystick variable */
var canvas_width = 500, canvas_height = 500;
var radius_base = 150;
var radius_handle = 72;
var radius_shaft = 120;
var range = canvas_width/2 - 10;
var step = 18;
var joystick = {x:0, y:0, x_percent: 0, y_percent: 0};
var click_state = 0;

var ws;

function init()
{
/* Camera setting */
var camera = document.getElementById("camera");
camera.width = "320";
camera.height = "240";

/* Joystick setting */
var ratio = 320.0 / canvas_width; // 320 is image's width

canvas_width = Math.round(canvas_width * ratio);
canvas_height = Math.round(canvas_height * ratio);
radius_base = Math.round(radius_base * ratio);
radius_handle = Math.round(radius_handle * ratio);
radius_shaft = Math.round(radius_shaft * ratio);
range = Math.round(range * ratio);
step = Math.round(step * ratio);

var canvas = document.getElementById("joystick");
canvas.width = canvas_width;
canvas.height = canvas_height;

canvas.addEventListener("touchstart", mouse_down);
canvas.addEventListener("touchend", mouse_up);
canvas.addEventListener("touchmove", mouse_move);
canvas.addEventListener("mousedown", mouse_down);
canvas.addEventListener("mouseup", mouse_up);
canvas.addEventListener("mousemove", mouse_move);

var ctx = canvas.getContext("2d");
ctx.translate(canvas_width/2, canvas_height/2);
ctx.shadowBlur = 20;
ctx.shadowColor = "LightGray";
ctx.lineCap="round";
ctx.lineJoin="round";

update_view();
}
function connect_onclick()
{
if(ws == null)
{
var ws_host_addr = "

<?

echo

_SERVER

(

"HTTP_HOST"

)

?>

";
if((navigator.platform.indexOf("Win") != -1) && (ws_host_addr.charAt(0) == "["))
{
// network resource identifier to UNC path name conversion
ws_host_addr = ws_host_addr.replace(/[\[\]]/g, '');
ws_host_addr = ws_host_addr.replace(/:/g, "-");
ws_host_addr += ".ipv6-literal.net";
}
ws = new WebSocket("ws://" + ws_host_addr + "/grove_camera", "uint8.phpoc");
document.getElementById("ws_state").innerHTML = "CONNECTING";
ws.onopen = ws_onopen;
ws.onclose = ws_onclose;
ws.onmessage = ws_onmessage;
ws.binaryType = "arraybuffer";
}
else
ws.close();
}
function ws_onopen()
{
document.getElementById("ws_state").innerHTML = "<font color='blue'>CONNECTED</font>";
document.getElementById("bt_connect").innerHTML = "Disconnect";
ws.send("0:0\r\n");
}
function ws_onclose()
{
document.getElementById("ws_state").innerHTML = "<font color='gray'>CLOSED</font>";
document.getElementById("bt_connect").innerHTML = "Connect";
ws.onopen = null;
ws.onclose = null;
ws.onmessage = null;
ws = null;
}

/* Camera functions */
function ws_onmessage(e_msg)
{
e_msg = e_msg || window.event; // MessageEvent

var u8view = new Uint8Array(e_msg.data);

if(u8view[0] == 0xFF && u8view[1] == 0xD8) /* Start Of JPEG Image */
image = u8view;
else
{
var data = new Uint8Array(image.length + u8view.length);
data.set(image);
data.set(u8view, image.length);
image = data;
}

if(u8view[u8view.length - 2] == 0xFF && u8view[u8view.length - 1] == 0xD9) /* End Of JPEG Image */
document.getElementById("camera").src = "data:image/jpeg;base64,"+ arrayToBase64(image);
}
function arrayToBase64(byteArray)
{
var hexString = Array.from(byteArray, function(byte) {
return ('0' + (byte & 0xFF).toString(16)).slice(-2);
}).join('');

return btoa(String.fromCharCode.apply(null, hexString.replace(/\r|\n/g, "").replace(/([\da-fA-F]{2}) ?/g, "0x$1 ").replace(/ +$/, "").split(" ")));
}

/* Joystick functions */
function send_data()
{
console.log(joystick.x_percent + ":" + joystick.y_percent + "\r\n");
if(ws != null)
ws.send(joystick.x_percent + ":" + joystick.y_percent + "\r\n");
}
function update_view()
{
var x = joystick.x, y = joystick.y;

var canvas = document.getElementById("joystick");
var ctx = canvas.getContext("2d");

ctx.clearRect(-canvas_width/2, -canvas_height/2, canvas_width, canvas_height);

ctx.lineWidth = 3;
ctx.strokeStyle="gray";
ctx.fillStyle = "LightGray";
ctx.beginPath();
ctx.arc(0, 0, range, 0, 2 * Math.PI);
ctx.stroke();
ctx.fill();

ctx.strokeStyle="black";
ctx.fillStyle = "hsl(0, 0%, 35%)";
ctx.beginPath();
ctx.arc(0, 0, radius_base, 0, 2 * Math.PI);
ctx.stroke();
ctx.fill();

ctx.strokeStyle="red";

var lineWidth = radius_shaft;
var pre_x = pre_y = 0;
var x_end = x/5;
var y_end = y/5;
var max_count = (radius_shaft - 10)/step;
var count = 1;

while(lineWidth >= 10)
{
var cur_x = Math.round(count * x_end / max_count);
var cur_y = Math.round(count * y_end / max_count);
ctx.lineWidth = lineWidth;
ctx.beginPath();
ctx.lineTo(pre_x, pre_y);
ctx.lineTo(cur_x, cur_y);
ctx.stroke();

lineWidth -= step;
pre_x = cur_x;
pre_y = cur_y;
count++;
}

var x_start = Math.round(x / 3);
var y_start = Math.round(y / 3);
lineWidth += step;

ctx.beginPath();
ctx.lineTo(pre_x, pre_y);
ctx.lineTo(x_start, y_start);
ctx.stroke();

count = 1;
pre_x = x_start;
pre_y = y_start;

while(lineWidth < radius_shaft)
{
var cur_x = Math.round(x_start + count * (x - x_start) / max_count);
var cur_y = Math.round(y_start + count * (y - y_start) / max_count);
ctx.lineWidth = lineWidth;
ctx.beginPath();
ctx.lineTo(pre_x, pre_y);
ctx.lineTo(cur_x, cur_y);
ctx.stroke();

lineWidth += step;
pre_x = cur_x;
pre_y = cur_y;
count++;
}

var grd = ctx.createRadialGradient(x, y, 0, x, y, radius_handle);
for(var i = 85; i >= 50; i-=5)
grd.addColorStop((85 - i)/35, "hsl(0, 100%, "+ i + "%)");

ctx.fillStyle = grd;
ctx.beginPath();
ctx.arc(x, y, radius_handle, 0, 2 * Math.PI);
ctx.fill();
}
function process_event(event)
{
var pos_x, pos_y;
if(event.offsetX)
{
pos_x = event.offsetX - canvas_width/2;
pos_y = event.offsetY - canvas_height/2;
}
else if(event.layerX)
{
pos_x = event.layerX - canvas_width/2;
pos_y = event.layerY - canvas_height/2;
}
else
{
pos_x = (Math.round(event.touches[0].pageX - event.touches[0].target.offsetLeft)) - canvas_width/2;
pos_y = (Math.round(event.touches[0].pageY - event.touches[0].target.offsetTop)) - canvas_height/2;
}

var x = joystick.x, y = joystick.y;
var joystick_range = range - radius_handle;
x_percent = Math.round(pos_x * 100 / joystick_range);
y_percent = Math.round(-pos_y * 100 / joystick_range);

return {x:pos_x, y:pos_y, x_percent:x_percent, y_percent:y_percent}
}
function mouse_down()
{
if(ws == null)
return;

event.preventDefault();

var pos = process_event(event);

var delta_x = pos.x - joystick.x;
var delta_y = pos.y - joystick.y;

var dist = Math.sqrt(delta_x*delta_x + delta_y*delta_y);

if(dist > radius_handle)
return;

click_state = 1;

var radius = Math.sqrt(pos.x*pos.x + pos.y*pos.y);

if(radius <(range - radius_handle))
{
delta_x = pos.x_percent - joystick.x_percent;
delta_y = pos.y_percent - joystick.y_percent;

dist = Math.sqrt(delta_x*delta_x + delta_y*delta_y);

if(dist < 2)
return;

joystick = pos;
send_data();
update_view();
}
}
function mouse_up()
{
event.preventDefault();
click_state = 0;
}
function mouse_move()
{
if(ws == null)
return;

event.preventDefault();

if(!click_state)
return;

var pos = process_event(event);

var radius = Math.sqrt(pos.x*pos.x + pos.y*pos.y);

if(radius <(range - radius_handle))
{
var delta_x = pos.x_percent - joystick.x_percent;
var delta_y = pos.y_percent - joystick.y_percent;

dist = Math.sqrt(delta_x*delta_x + delta_y*delta_y);

if(dist < 2)
return;

joystick = pos;
send_data();
update_view();
}
}

window.onload = init;
</script>
</head>

<body>
<h1>Arduino - Grove Camera - Web</h1>
<img id="camera"><br>
<canvas id="joystick"></canvas>
<h2>
<p>
WebSocket : <span id="ws_state">null</span><br>
</p>
<button id="bt_connect" type="button" onclick="connect_onclick();">Connect</button>
</h2>
</body>

</html>
Save this code to remote_camera.php and upload to PHPoC Shield via PHPoC Debugger according to
this instruction
Setting and Test
Setup network information for PHPoC [WiFi] shield via
this instruction
Access web camera by typing http://
ip_address
/remote_camera.php